Monday April 5, 2021
As a reminder for anyone that may be reading this for the first time! Our goal is to visit as many National Park sites as we can before time and/or ill health stop us. Since we acquired our camper nearly two years we have managed to get most of the parks in the Southeast Region of the US. Hopefully on this trip we will be able to pick up the five or so straggler parks in this region and move onto the mid-Atlantic. With over 423 existing parks, more added every year it will be a challenge 🙂.
Monday – April 5, 2021 – We left Brandon this morning at 7:00 and set our GPS for Kings Bay Submarine Base in St Mary's Georgia. This is one of our favorite military camp sites, clean and well kept.
We arrived around 2:00, found our site and set up in about 30 minutes. After all the work was done we placed our chairs to face the woods and spent the rest of the day chilling. It takes a lot to get the trailer, house, yard and pool ready not to mention the itinerary Carl develops, so when we finally get out we are ready for some down time.
I never truly get away and today was no exception. My phone never stops ringing and today was no different. Mama has macular degeneration so we have to keep up with that and she has a little more difficulty seeing lately. But she does not like Docter's, of any kind, and she will never complain so we don't see them very often. We didn't have their contact information so it took a little detective work, but I found them, made the appointment and alerted my younger sister Wendy who will take her. Whew! I don't mind those chores though, it keeps me connected to the people I love.
With all the stuff we have to do done we settle down with a glass of wine, some leftovers and talk until dark.

Tuesday – April 6, 2021 -It was cool when we got up this morning. I stayed under the covers this morning in a stand off with Carl to see who would get up and get the coffee started.

After breakfast we head north on I95 to St Simonides Island where there is a light house I want to get to. I have a "lighthouse passport" with a space for all historic US lighthouses. I get the stamp, we climb the 129 steps to the top and enjoy a beautiful view.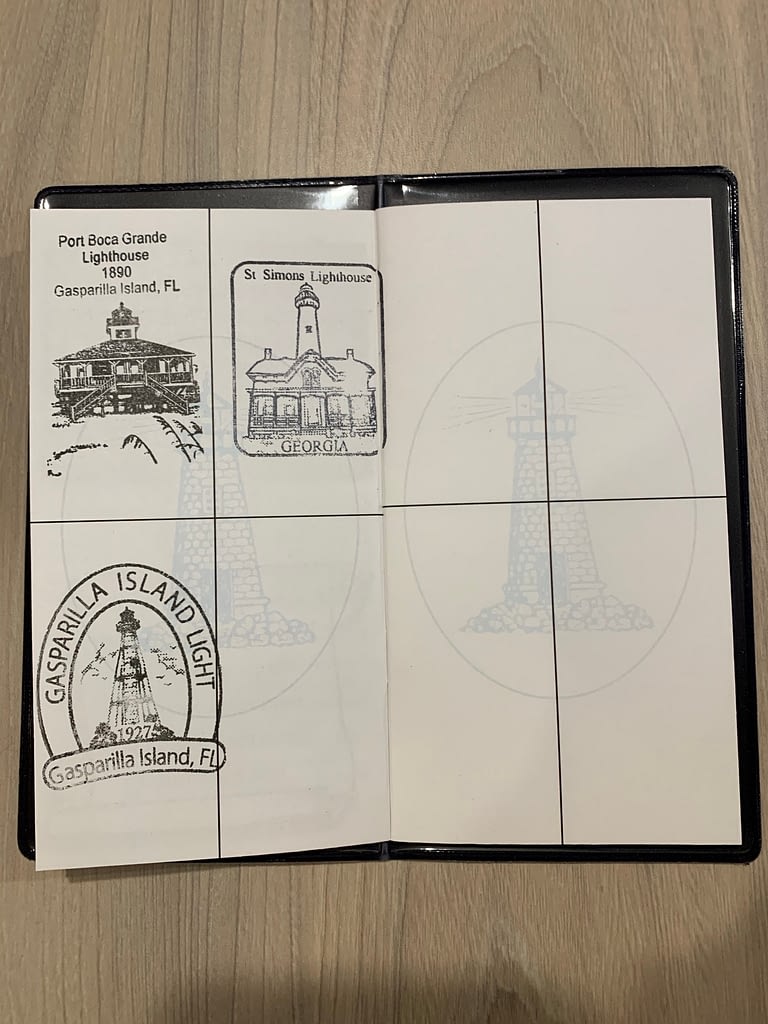 It's lunchtime so we retrieve our sandwiches from the truck and look for a place to eat. Just a short walk along the beach and we discover a picnic area. After we eat Carl goes to take some pictures and I explore the small downtown area for any shopping opportunities. It's a lot of restaurants and not much else so I head back to the truck where I find Carl taking pictures on the lighthouse grounds.
It's lunchtime so we grab our sandwiches from the truck and look for a place to eat. Not far up the beach we discover a picnic area and sit down to eat. After lunch we get in the truck and head home by way of Brunswick. Brunswick, famous for its stew is a pleasant old downtown area and not much else. It does have an ice cream shop and we waste no time ordering a cup with two scoops, a nice treat.
Wednesday – April 7, 2021 – We only had two nights here at Eagle's Nest so this morning we will be heading North to Shaw AFB, South Carolina. About five hours of driving time should get us there at around 3:00.