We're on our way – our first travel out of the country, just the two of us, since Covid came to town. We are almost excited as we get closer to the big day. Now if we can just remember how to do it, travel I mean!

We said goodbye to our house sitters, Phillipe and Julie, on Saturday. Phillipe was born near Paris and teaches French on line. Julie, his delightful daughter, is a student. They will be staying in our house and caring for our cats, a good arrangement for all.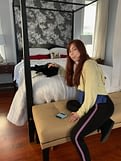 After an uneventful drive we checked into our hotel and drove around Ft Lauderdale. Neither of us has been here for quite some time. It's not the sleepy beach town I remember and, just like the rest of coastal Florida, it exudes wealth, at least the area we saw. We took a long walk in Hugh Taylor Birch State Park and then picked up some sushi and a bottle of Sauvignon Blanc for dinner. Back in our room we were hoping the Eagles would find a way to beat the Cowboys to help out the Bucs but … Anyway Sunday we set sail for the southern Caribbean.
OK, we know this post is a little jacked, but in the interest of not falling too far behind with our blogging, we are going to post anyway. Hey at least we have figured out the picture part this time.