Covid has thrown us a curveball. Since we left Ft. Lauderdale two countries have restricted access to cruise ships, Grenada and Dominica. We can still go ashore but only with an excursion group, ugh. We prefer to just wander and explore new places but we are happy to follow the rules and glad we get to enjoy it at all. Some cruise ships are being turned away from scheduled ports of call.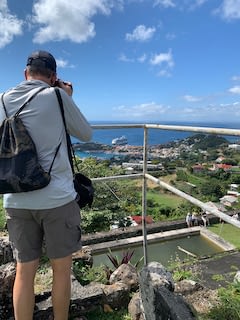 Pulling into port I see volcanic geography covered with an emerald green carpet. It's beautiful. They all are. We have scheduled a tour of the island and load onto our minibus right on time. Covid protocol is pretty strict here so we are not allowed to travel with the a/c on. In the port area at sea level we are sweating waiting on our bus to pull out but as we clear St. George and head up, the temperature cools off quickly. That problem solved my thoughts go immediately to Carl. He has a tendency to be motion sick and these roads are twisting and turning up higher and higher into the clouds. Our tour is promising us four hours of this. What were we thinking?
It was all good, no one was sick and we had rum punch at the volcano.