Hello, Flat Stanley reporting on Grenada. We had to be on board our ship in Curacao at 1:30 the day before so we could get to Grenada the next morning in time to spend a whole day there. Grenada is an island country and member of the British Commonwealth. In the old days, the Carib people lived on Grenada, then the Spanish 'discovered' it, then the French were the first Europeans to settle there, then Grenada became a British territory following the Six Years' (or French and Indian) War, and finally it became independent. Whew! Very confusing, but we like history so it was all very interesting.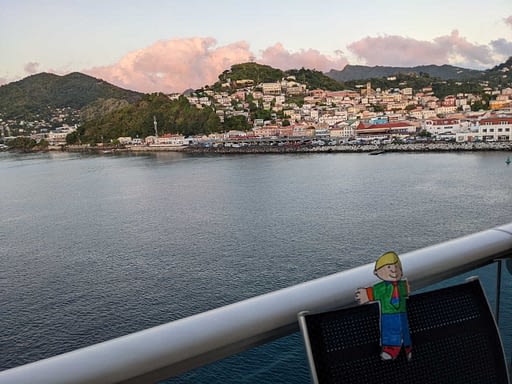 Grenada didn't allow passengers to go out of the security zone unless they were on an organized excursion. That was different from Aruba and Curacao, where we could get off and walk around on our own. It was important to understand the rules for each place we visited and know that things could change at any time. That's just the way travel is these days, whether on a cruise ship or any other way of traveling. And the rules could be different depending on a number of different things, like how many sick people were on the ship and how many hospital beds were available on the island. The ships were always talking to government people on the islands and in the USA to figure it all out. We always felt safe.
This island was really hilly, not like the flat ABC islands. We rode in a bus with some other people from our ship to visit an old fort, Fort Frederick, that had a really nice view of St. George's Then we saw a black sand beach made by volcanoes. We don't have black sand beaches in Florida so that was pretty cool. Then we rode up, up, up on the highest road to a lake in a volcano crater, called Grand Etang Lake. They said a mermaid lives in the lake but we didn't see her. It was much cooler up there than at the beach so it felt really good. They even gave Mimi and Grampy some rum punch that they liked very much.
We had a pretty good day in Grenada. The weather was nice, the people were nice, and the winding roads made the bus ride lots of fun. We had to keep the bus windows open to get air inside (no air conditioning) but it wasn't bad. However we sat in the very back of the bus so it was bumpy. We got back to the ship in plenty of time for our 6:30 all aboard. And another great dinner! Next stop, Dominica. Signing off, FS.