Hello again. Flat Stanley reporting on our visit to Grand Turk in the Turks and Caicos. This wasn't where we were supposed to be. We were supposed to visit St. Thomas in the US Virgin Islands but they didn't let our ship stop there. The captain came on the speaker the night we left Dominica and told us about the change because we had some Covid cases on our ship. I think the health people on the island looked at all the facts, like cases on the ship for passengers and crew, cases on the island, how many hospital beds were available and other things, and decided it wasn't safe for the passengers to get off there. Oh well, we knew that could happen so it wasn't bad. Instead we went to the Turks and Caicos after a full sea day. It was kind of nice having a whole day at sea after two busy days on Grenada and Dominica.
We didn't go on any excursions. But the port area was real nice. There was a guy playing guitar and singing Reggae music, Grampy liked that, and lots of shops that Mimi liked. Of course there was a white sand beach and lots of lounge chairs to hang out in.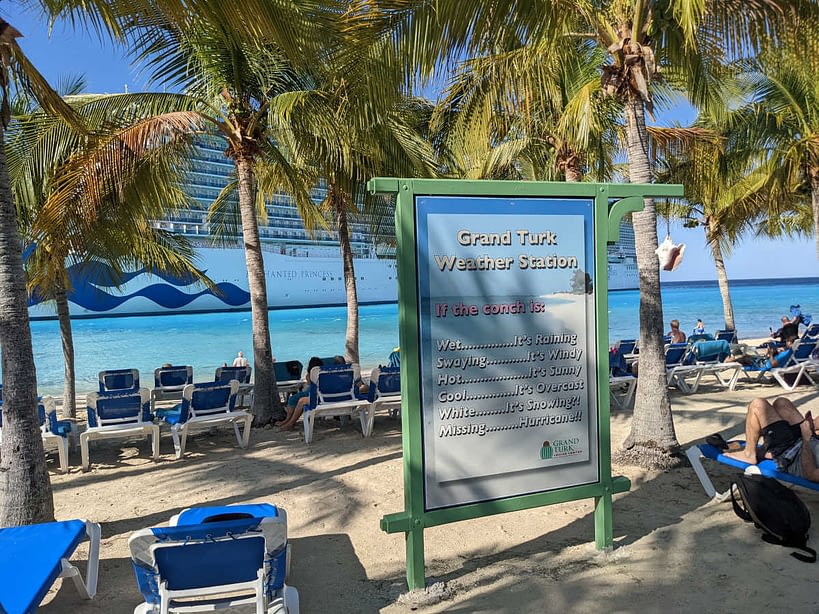 Grand Turk may have been the place where Christopher Columbus first landed in America a long time ago in 1492 but it could have been somewhere else. Locations were kind of tricky back in those days. But it was definitely the place where John Glenn landed just offshore in 1962 after the first American manned orbit of earth. He circled the earth three times but had some trouble with the heat shield on his Mercury spacecraft. When he landed and got out of the capsule, his first words were 'It was hot in there'. I bet it was. The first Europeans to settle here were people from Bermuda in the Bahamas who came to harvest salt. They built big shallow ponds to fill with seawater. And when it dried up, they scraped up the salt that was left behind. I like sea salt on my French fries and popcorn.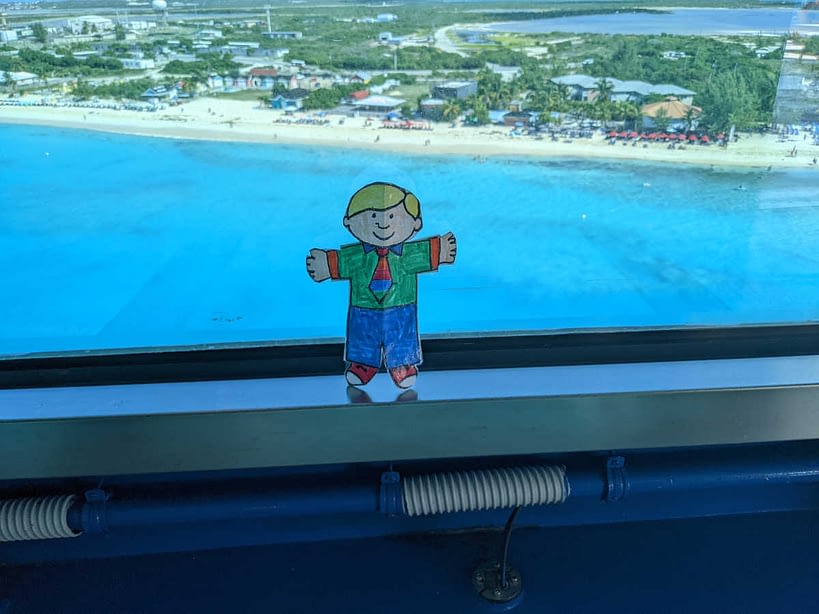 We had a good time in Grand Turk, just wandering around, shopping, listening to the music. The weather was beautiful while we were on the island. The people were so friendly. It was a great day. Next stop Princess Cays in the Bahamas. This is Flat Stanley signing off for now. Bye!